How can you make a living as a freelancer?
One smart approach is to find a freelance platform that can help you present your skills to the best possible clients. But beware–there's tons of competition out there and faceless scammers can take advantage of eager independent contractors looking to gain experience. Whether you're just starting out or are an experienced independent contractor you can start building your portfolio with these  5  top freelance platforms for finding flexible work.
Upwork
Upwork, formerly Elance-oDesk, is one of the largest and most popular freelance platform. About 9 million freelancers and 4 million companies come together through Upwork. Starting out, freelancers should be honest about their skill sets to avoid setbacks because client reviews go a long way in garnering momentum.  Some of the most sought after Upworks skills are in Php development, Content writing, Internet research, and Marketing.
Upwork requires that independent contractors have completed profiles and that they take skill tests to get the most out of the platform. They offer both fixed priced and hourly contracts and the latter allows for time tracking via their work app.
The most negative aspect about Upwork is that it's very competitive. You'll be competing with seasoned vets as well as outsourced freelancers who can afford to work for next to nothing. Additionally, this freelance platform charges freelancers on 20% of their earnings, though long term contracts are only charged 10%.

Toptal
This freelance platform is much more niche than others, catering to top web designers and developers from all over the world. Toptal capitalizes on the fact that they only match the top 3% of said freelancers with clients. This 3% consist of Front and Back-end developers, quality assurance workers and (UI, UX, Visual, Interaction) designers. Freelancers are hired on either a part-time or full-time basis; with the objective of them becoming fully integrated team members from wherever they are in the world.
Because Toptal only takes on the top 3% of freelancers who apply, it means higher wages and a greater possibility for long term work, if you qualify. They have an arduous screening process, so don't waste your time if you're just starting out. For example, a software engineer is required to pass Language & Personality, Timed Algorithm, and Technical tests. But if you have the experience you won't ever have to worry about working for peanuts.
Freelancer
Like Upwork, Freelancer can boast that it's one of, if not the largest, freelancer platform. This is because it's 19 million+ registered users and its various acquisitions over the years. They also offer skill test, but you have to pay to take them. Freelancer also caters to a variety of independent contractors but where they differ is with their crowdsourcing platform.
Through crowdsourcing clients can post contest in which hundreds of freelancers compete for jobs in logo, t-shirt, and website design as well as video creation and other freelance tasks. Freelancer may be larger but its user interface can be more confusing and complicated than others.
Crowdsourcing is a good way for clients to find the best of the best, but unless you have the skills it could be a waste of your time; because there's only one winner, one payee. Though on the other side of the coin, a freelancer working via Freelancer does stand a chance of earning more money than finding work through its competitors. But this relies heavily on which plan you sign up for. The free plan doesn't provide many features, such as time tracking and more is taken from your pay by the company. Plans range between $0-199.00, and the more you pay the more of your earnings you keep. It's important for you to read up on their terms, fee's and charges to see which plan will work best for you before getting started.
Craigslist
Though it's not entirely a freelance platform we all know that Craigslist can be a great tool for finding work. But just like when looking for a roommate or furniture you have to use your wits to avoid scams on Craigslist. If you're savvy and know what to look out for, Craigslist can be a great place to find work. Literally millions of employers post jobs on the platform daily and you're allowed to look for work outside of your area which is ideal for freelancers. Though finding work locally could lead to more consistency and even land you a full-time job if you play your cards right.
Perhaps the best aspect of finding work on Craigslist as opposed to bidding sites like Upwork and Freelancer; is the fact you don't have to pay for its services and there are no fee's taking out of your pay for using it. The competition isn't as stiff either and you don't have to worry as much about working for below minimum wage. However, you have to do more work when it comes to creating a great portfolio, cover letter, and marketing. But remember when looking for work on Craigslist, if it sounds too good to be true… it probably is.
FWJ – Freelance Writing Jobs
If writing is your niche, Freelance writing Jobs is the freelance platform for you. It's an online community that caters to freelance writers of all experience levels. They provide community boards and forums as well as articles (how to's, budgeting tips, style guides…etc.) educating writers, bloggers, editors, publishers and everything in between on the ins and outs of freelance writing. Unlike some others on this list, it's more of a community than a platform. It's geared towards helping you find success as a writer more than anything else, though employers can post jobs via the site. It also posts many top Freelance writing jobs from Craigslist, which is much better than you having to scan the site yourself.
There are no fees but plenty of advertising on the freelance platform. Moreover, when clients post jobs via Freelance writing jobs you can't apply directly through the site. Typically, freelancers are provided with contact info or directed to a third party site. Because of this fact, much like finding jobs via Craigslist, it's up to you to weed out bogus work. You will also have the responsibility of finding a reliable payment method i.e. Paypal, wire transfers or direct deposit. Even though sites like Upwork and Freelancer do have limited forums and topic discussions to help their freelancers, they don't come close to the resources freelance writing jobs offer to help you hone your skills and rise above the competition, if you're a writer of course.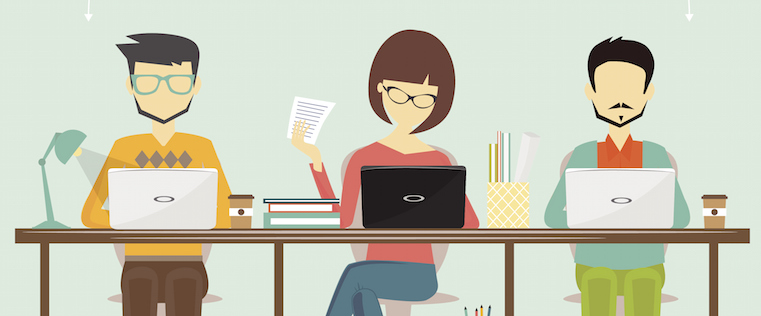 http://gignoble.com/wp-content/uploads/2016/06/Freelance-Writer-1024x743.jpg
743
1024
Ras McCurdie
http://gignoble.com/wp-content/uploads/2016/12/GignobleDark-300x41.png
Ras McCurdie
2016-06-06 16:37:03
2016-09-28 18:26:37
Top 5 Freelance Platforms for Finding Flexible Work